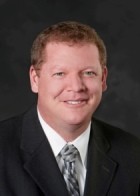 Jeff T.
Erdman
Financial Advisor
Jeff T. Erdman is an Independent Financial Advisor at Gordon Financial Advisory Services, LLC.
He is responsible for creating and managing customized wealth management programs for our clients and examines investment portfolios with an emphasis on technical analysis.  Jeff also observes the macro economic perspective of the markets and reviews its relationship to a client's long term goals.  This  process assists in monitoring a client's portfolio for proper asset allocation and diversification in accordance with a client's financial plan.  Jeff holds a Series 7  and 65 securities registration.
Mr. Erdman is a 1985 graduate of Wayne State University where he earned a Bachelor of Science Degree.  He has worked in the financial industry since 1999, first at PaineWebber (now UBS) and then Citigroup SmithBarney (now Morgan Stanley Smith Barney).  He is a member of The Troy Chamber, the Royal Oak Chamber, Automation Alley and the Detroit Regional Chamber.   
All Technical Analysis and resulting conclusions and observations are based upon historical patterns. Therefore, observations are a function of each analyst's interpretation – and also a function of mathematical probabilities. In effect TA is a study in probabilities. What has happened 75% of the time in the past does not mean it will ALWAYS recur in the future. It logically follows that historical precedent does not guarantee future results. Conclusions expressed in the TA section are personal opinions; and may not be construed as recommendations to buy or sell anything.
There is no guarantee that a diversified portfolio will outperform a non-diversified portfolio in any given market environment.
No investment strategy, such as asset allocation, can guarantee a profit or protect against loss in periods of declining values.